Poke-Through Floor Boxes 2, From Arnev Products, Inc.
As a hotel manager, poke-through floor boxes are a must. A common misconception of people getting into the hotel business is that the entire scope of the business deals with guests and hotel rooms, however, hotels get used to a great many events and programs that do not have guests staying in your hotel rooms. In those cases, having good options for the routing of electrical equipment can be an absolute lifesaver and turn an otherwise useless ballroom into everything from a concert hall to a wedding chapel.
Having a sectioned ballroom with poke-through floor boxes allows you to best able to provide additional services to your guests because of how modular you can make the room. For smaller events, you can section off a smaller room to be more budget aware, and for larger events, you can pull the section walls away. The benefit of having floor panels for any kind of electrical routine is twofold; first, your guests can plug in their sound or electrical equipment anywhere in the room, even if the wall is far away. Second, by having the box close to where it is needed, you prevent the issue of long trailing wires crossing your ballroom and being a safety hazard.
No matter what kind of poke-through floor boxes, you choose to have, Arnev Products makes the right cover for you. Depending on where you put the box will determine the type of cover that you need to put onto it, after all. If you put it somewhere off to one side along the edge of the room, where there is likely to be less traffic, you can opt for something more ornate and less durable. If you're putting one smack dab in the middle of the room or any other high-traffic area, then you're going to want a more durable floor cover.
Arnev even makes outdoor poke-through floor boxes so that you can transform a back patio or deck into a perfect venue for your guests. With the ability to sink the box into concrete or wood, you can make use of any venue inside or around your hotel to the best benefit of the hotel and your patrons; after all, isn't the idea of an outdoor wedding a common theme?
Furthermore, Arnev Products makes perfect covers for any of their outdoor products. Make of heavy and durable plastic, as well as containing a locking latch, these covers for your
poke-through floor boxes
protect the outlets from any happenstance of inclement weather or tampering.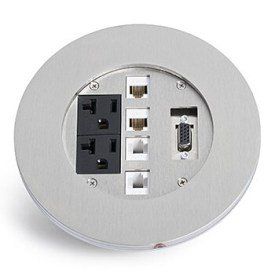 See all the configurations below