Cabinet Hardware Products and Design Suites with Custom Finishes
Please allow 3-4 weeks for these custom-finished products....Made in the USA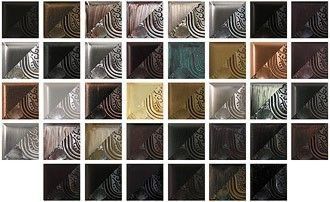 Cabinet Hardware
At Arnev Products, Inc you will find cabinet hardware designed to match your bathroom fixtures, home decorating accents, and switch plates. We have a massive inventory of cabinet hardware including hooks, handles, knobs, and more.
Customize the look of your bathroom or kitchen cabinetry with our products, available in a variety of finishes to choose from. Plus, for all of our products, we use the best quality materials. We manufacture cabinet hardware that is durable and long-lasting through years of heavy-duty use. When you shop at Arnev, there is no limit to your decorating capabilities.
Home Decorating
Your kitchen and bathroom cabinets often tie together the decorative theme of your household. When you choose cabinet hardware from Arnev, you can easily match your cabinet handles and knobs to our other home decorating products. Cabinet hardware can also be matched to the light switch plate and outlet cover products in our inventory as well.
No matter what your decorating theme is, you're sure to find a light switch plate, outlet cover, cabinet knob, and other home decorating accents to complete the look and theme of your entire home. For your bathroom cabinets and kitchen cabinets, we feature beautiful cabinet handles and knobs in a variety of washes and finishes.
Finishes
The cabinet hardware in our inventory is available with over 38 custom finishes to choose from. For our quality cabinet handles and knobs, we manufacture with pewter, copper, and bronze materials. We can also add brushed finishes, such as pewter with cherry, white, maple, matte, or bronze, to your handles or knobs to give them a unique and decorative look. Our copper finish can be brushed with rustic, antique, or bronzed finishes. Plus, our bronze finishes can be accented with black, terra cotta, Verdigris, gold, and other washes.
Also, our hardware for cabinets can be matched to our other bathroom fixtures and home decorating products to complete the look of your bathroom or kitchen cabinets and drawers. At Arnev, we have what you need for the perfect ensemble!
Designs
Our bathroom and kitchen hooks handle, and knobs are available in over 300 different designs to choose from. Some of the themes we carry include Toscana, coastal, animal, outdoor, Asian, French, Victorian, floral, wester, and music themes. You can also choose from a variety of traditional, contemporary, and classic designs as well.
We also manufacture cabinet hardware for bathroom and kitchen cabinets of all sizes. If your cabinets are a bit oversized, we offer a full line of oversized hardware for cabinets to choose from. Most of our designs come in over 38 different finishes so that they can be easily matched to light switch plates, outlet covers, and other home decorating pieces.
At Arnev Products, Inc., we know that your cabinet and drawer handles, and knobs can complete your kitchen or bathroom's theme. With our matching cabinet hardware, your home's decorating theme is sure to stand out.
Kitchen Cabinets
At Arnev, our kitchen cabinet hardware is designed to fit all kitchen cabinet types and sizes. Cabinet knobs and handles are available in a variety of sizes and styles, including products made to fit oversized cabinets, drawers, and cupboards.
Now, every cabinet in your kitchen can feature the latest in-home decorating fashion. With our complete designer kitchen cabinet hardware sets, all of your cabinets and drawers will match. We encourage you to visit our online shop and check out our selection of premium handles, hooks, knobs, and other quality products.
The kitchen is the most-used room of your home. Arnev products are designed to be long-lasting and durable enough to withstand years of use. Make it beautiful and functional: Arnev Products, Inc.
Make it Match
Arnev Products, Inc. proudly offers a massive inventory of kitchen cabinet hardware. We manufacture bathroom and kitchen accents such as paper towel holders, napkin holders, mirrors, towel racks, bathrobe hooks, towel hooks, toilet paper holders, soap bottles, soap dishes, and so much more! With more than 300 designs to choose from, we are confident you'll find exactly what you are looking for.
Many of our cabinet hardware sets can be paired with home decorating accents designed to enhance the look of your kitchen or bathroom. You can also conveniently match drawer handles, hooks, and other accents from our selections. With Arnev, you can decorate your kitchen from top to bottom with any of our designer cabinet hardware styles for that perfect look.