Country Decor, From Arnev Products, Inc.
Shop Arnev.com for matching light switch covers, outlet covers, and other country decors for your household. Your kitchen, living room, bathroom, and bedroom can feature a country theme with products by Arnev Products, Inc. Arnev manufactures a variety of products to fulfill all your home decorating needs.
Country Charm
Even if your home is located in the city, a country decorating theme can make it feel as if you are in the country. Create country charm in your home with country decor from Arnev Products, Inc. Products are available as outlet covers, light switch covers, cabinet handles, cabinet knobs, towel racks, mirrors, jars, and other home accents. Display your love for the country throughout your entire home. Matching switch plates and outlet covers are a great way to update the look of your home without the expensive price tag. Arnev products are high-quality, affordable home accents that keep up with the latest trends in home decorating.
If you plan to stay up to date in the latest home decorating fashions, shop Arnev.com frequently for style updates, new products, and the latest in country decor. Arnev Products, Inc. works hard to stay ahead of the home decorating industry and create home decorating items that keep up with the latest trends. There are hundreds of products to choose from at Arnev.com. Soap dishes, decorative jars, towel racks, decorative hooks, cabinet pulls, light switch covers, and outlet covers are just a few of the products offered as part of their line of country decor. Home decorators wanting to add a little country to their homes can do so by adding these matching products to their home's decorating theme.
Configurations and Finishes
Homeowners needing to cover multiple light switches or outlets with just one color need not settle for plain white cover plates. Arnev Products, Inc. manufactures its light switch covers and outlet covers in a variety of designs and configurations. White outlet and light switch covers are boring and old-fashioned. Add a zest of country charm to your walls with cover plates featured in the country decor line manufactured by Arnev Products Inc. Cover plates are available in more than 50 configurations. Most of the configurations are manufactured to match our decorative home accents. Choose from a variety of decorating themes including our southwest, rustic, and country decor, or make your selection from more than 30 custom finishes.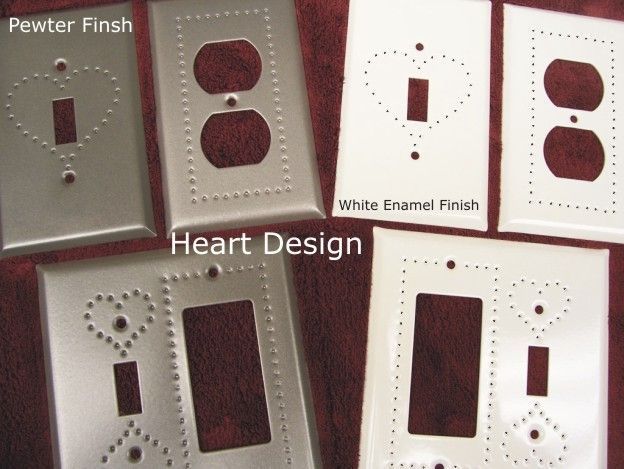 Making a Purchase
Arnev products are sold in fine lighting stores, hardware stores, and gift shops across the United States. Products are listed under the name "The Big Switchover" All of the Arnev products come with installation hardware and instructions. To make purchasing items faster and more convenient, customers who are shopping on our website can make their country decor purchases right from our website.
Shop for all our products here www.arnev.com