Kitchen Cabinet Hardware article 3, from Arnev Products, Inc.
For the best quality kitchen cabinet hardware available, shop at Arnev Products, Inc. Find hooks, handles, knobs, and more on our website. Our kitchen cabinet hardware is made from long-lasting, durable materials. Receive only the best cabinet hardware pieces when you shop with us.
Kitchen Cabinets
Arnev Products, Inc. has kitchen cabinet hardware to fit all kitchen cabinets. Cabinet knobs and handles are available in a variety of sizes and styles. Arnev Products, Inc. manufactures cabinet hardware to fit oversized cabinets, drawers, and cupboards. Now every cabinet in your kitchen can feature the latest in home decorating fashion. With complete designer kitchen cabinet hardware sets, all of your cabinets and drawers will match. Shop online for handles, hooks, and knobs. Arnev Products, Inc. also manufactures a variety of home decorating items to match our kitchen cabinet hardware. Our website features towel racks, paper towel holders, and other items for your kitchen to match cabinet hardware designs.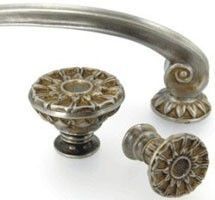 Designs and Finishes
We offer more than 300 designs in 38 custom finishes. You'll find knobs and handles in Toscana, animal, outdoor, coastal, French, Victorian, Asian, western, floral, and music themes. We also carry classic, contemporary and traditional designs. On our website, you'll find these and many more designs. Each design is available in any of our custom finishes. Brushed finishes give your pewter, bronze, or copper kitchen cabinet hardware a unique and decorative look.
Pewter can be brushed with cherry, maple, matte, bronze, or white finish. Make copper handles and knobs appear rustic, antique, or bronzed. Finish the look of your bronze cabinet hardware with terra cotta, verdigris, black, or copper wash. There are many other brushed finishes to choose from. Before purchasing your kitchen cabinet hardware, decide which finish you would like and specify your choice on the order form.
Make it Match
Arnev Products, Inc. has a massive inventory of kitchen cabinet hardware. With more than 300 designs to choose from, we guarantee you'll find exactly what you are looking for. Many of our cabinet hardware sets can be paired with home decorating accents designed to enhance the look of your kitchen. At Arnev, we manufacture towel racks, napkin holders, paper towel holders, soap bottles and dishes, jars, switch plates, and other items to match cabinet hardware products.
When you have chosen which cabinet hardware to finish your kitchen cabinets with, you can match drawer handles, hooks, and other accents. Decorate your kitchen from top to bottom with any of our designer styles. The kitchen is the most used room in your home. Arnev products are designed to be long-lasting and durable enough to withstand years of use. Make it beautiful, make it functional with kitchen cabinet hardware from Arnev Products, Inc.
Shop for all our products here www.arnev.com