Electrical Floor Boxes II
Electrical floor boxes purchased from Arnev Products, Inc. are the perfect choice for customers who wish to have a product that is extremely reliable and stylish electrical floor boxes. The manufacturing company, based in Wisconsin, was founded in 1989 by Arnie Evans who decided to provide their customers with high end, dependable and stylish electrical floor boxes. Arnev Products, Inc.'s floor boxes are available to the company's customers in many different types, styles, and finishes. All of which can be found in fine lighting stores, hardware stores and gift shops in nearly every state within the USA. Additionally, all styles of the company's floor boxes and
switch plates
can be found in mail order catalogs and are easily purchased by customers from the company's website.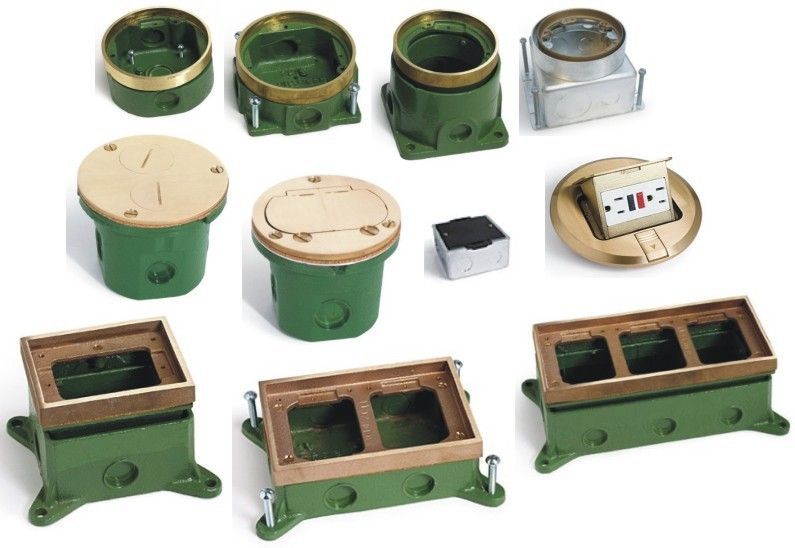 Electrical floor boxes are a popular product from Arnev Products, Inc. because of the design options and durability of the floor boxes which can be used for electrical power, telephone land lines, data transmission and computer networking or internet connections. The company is able to provide its customers with several different design styles of electrical floor boxes for both concrete and wooden floors such as round and rectangular floor boxes. Both floor box configurations are offered with several cover options such as the customary flip-up lid covers and pop-up outlets. Furthermore, both configurations of floor boxes are offered with a long list of design styles that include finishes such as brass, nickel, aluminum, stainless steel, bronze, bronze with gold wash, pewter with copper wash, pewter with terra cotta wash, pewter with bronze wash, pewter matte, black, rust with black wash, pewter bright, bronze with black wash, satin pewter, rust, verdigris, gold, copper bright, rust with copper wash, copper bronze, satin pearl antique copper, weathered white, antique gold, brushed natural pewter, pewter with verdi wash, rust with verdi wash, pewter with white wash, pewter with cherry wash, pewter with maple wash, bronze with copper wash, bronze with verdi wash, black with terra cotta wash, black with bronze wash, iron red, black with copper wash, black with verdi wash, black with chocolate wash, black with cherry wash, black with maple wash and black with steel wash.
Moreover, Arnev Products, Inc. is top choice for customers searching for electrical floor boxes because of the customer service and maintenance offered by the company. Customers are offered the policy of having their floor boxes refinished if they are worn down or in need of repair. The process of refinishing floor box covers can only be done on metal based products and usually take up to six weeks. All of these design option, durability, and services by Arnev Products, Inc. have made the company first choice for customers searching for reliable
electrical floor boxes
.