All our standard electrical switch plate configurations
These are our Standard Electrical Switch Plate Configurations which are available in 99.8% of our Switch Plate Cover Products.
Most of our wall plates are available in these standard sizes up to 8-gang and 99%, all in stock. Some of our colors are Ivory switch plate covers, Brass switchplates, Almond outlet covers, Stainless Steel switch covers, Brushed Nickel wall plates, High Shine Black receptacles, and about 75 other finishes in our switch plate collection. If you click on one of the switchplate images below, it will take you to all of our different types of switch plate finishes, so take your time shopping. All of our switch plates are what are called a Mid-Sized Wall Plate Covers. So be sure to check the measurements of the area you need to install our products, so they will all fit easily. Your new switchplates will be about 1/4 inch larger on all sides, but not over-sized, and they all look just great.....so have some fun shopping, and we are confident you will love our wallplate products
PULL THE PAGE DOWN TO SEE ALL THE SWITCH PLATE CONFIGURATIONS AVAILABLE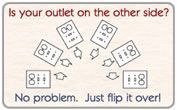 These images above are all the different electrical switch plate configurations we offer in almost all of our switchplate products. These are all mid-sized, and not over-sized, but about 1/4" larger on all sides than a standard small switch plate cover. We make these wallplates slightly larger to cover up any paint lines, or wallpaper lines, or bad cuts in the drywall, and our customers love them. So click on any electrical switch plate configuration you need and it will take you to all the available colors, finishes, or designs you may want to use, and then click on the category like painted finishes, or pre-finished metal finishes, or wooden switchplates, or whatever you desire to place your order. Thank you, Arnev Products, Inc. www.arnev.com 800-260-1181 for customer service.
These products below are special low voltage inserts for our Decora typle or GF type switch plate covers when you need a telephone jack, or cable jack, or HDMI or Cat5-6, or a combination of any of the devices for your needs.