In-Floor Outlet Article 5, From Arnev Products, Inc.
Arnev Products, Inc. manufactures floor outlet boxes that can be mounted into wood or concrete floors.
Arnev
Products, Inc. is known for its quality light switch and power outlet covers. But they offer so much more. Their line of floor boxes is durable and safe for use in schools, churches, auditoriums, and homes. People use floor boxes to set up audio/ video systems. Floor boxes are recessed power and cable receptacles. Arnev manufactures boxes for wood or concrete floors. They provide access to electrical outlets, audio/ visual wiring for sound systems, cable television, and more.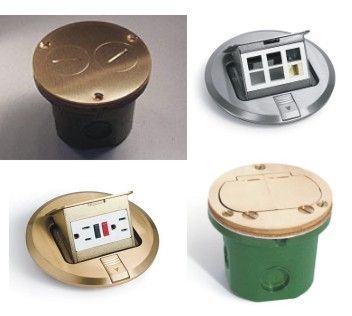 Types of Boxes
Arnev's in-floor outlet boxes are available in many different colors, sizes, shapes, and styles. Arnev.com features round boxes or rectangular boxes in metallic and non-metallic finishes. A few of the in-floor outlet box models come with flip-to-open lids. When the floor box is not in use, hide the outlets behind a smooth finished lid in whatever metal and metal wash you'd like. Single or duplex lids, and adjustable and semi-adjustable gang boxes are also available. Arnev manufactures a variety of floor boxes so you can get the configuration specific to your audio/ visual needs. Arnev has floor boxes that lay flat with the floor when not in use, but pop up from the floor when you need to plug something in. This feature allows you to hide wiring when not in use, but gain easy access to it when you want to plug something new into your entertainment system.
Uses
Arnev's in-floor outlet box designs are the top-of-the-line custom audio floor boxes on the market. They can be used in home theater applications as well as for staging applications in churches, schools, community theaters, and presentation rooms. Floor boxes are available in a variety of configurations. Arnev.com features floor boxes in configurations that facilitate easy access to audio sources, video sources, telephone landlines, data lines for computer networking and internet accessibility, electrical power, and microphone connectors. They are also great for several different CAT5 cable uses. If specific configurations are needed, Arnev may be able to manufacture a custom in-floor outlet box for you.
Floor Box Accessories
Arnev manufactures floor outlet accessories to accompany their floor boxes. Specially designed covers make the area around the floor box look clean and organized. Flanges and rings hide the cut made into the floor during installation. They also hide the edge of the floor box and give it a smooth, finished look. They make sure the edges of the floor box are covered, protecting people and pets from injury. In-floor outlet box flanges and finishing, rings are available in a variety of colors, designs, and sizes to match your power outlet covers
Shop for all our products here www.arnev.com