Floor Box Finishing Rings, From Arnev Products, Inc.
Finishing Rings for Bad Cuts on the Floors
You hired a contractor to put in some electrical outlets on your new hardwood floor. However, when the contractor cut the hole in the floor the floor box cover was not large enough to cover up the rough edges they left on your beautiful new floor! What do you do? Or how do you cover up an existing concrete floor box in the floor where the tile is all cracked and chipped? We have the solution for you with our finishing rings for floor box covers.
"Finishing Rings" by Arnev Products, Inc.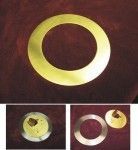 These Floor box cover finishing rings will fit almost any round box cover on the market by all the manufacturers and can be glued or screwed to the underside of the floor box cover to give you the extra width needed to cover almost all cutting mistakes. These are 4" ID (inside diameter) by 7 1/2" OD (outside diameter), or 4 1/2" ID by 7 1/2" OD, and are beautifully brass plated for years of wear. Or, Arnev Products can customize both your new or existing floor box cover and new finish in 38 custom finishes. You could have the Finishing Rings and Floor box covers in Bronze, Pewter, Copper, or any one of 38 custom finishes on this page on their website,
and you can even order the custom finish sample chips.
This could be the fix you are looking for, so check out the Floor Box Finishing Rings or call Arnev Products, Inc. at 800-260-1181.
Shop for all our products here www.arnev.com