Finishing Rings for bad cuts in wood or concrete floors
These floor box cover finishing rings are available in two sizes on the inside dimensions, one is 4 inches I.D. and the other is 4.5 inches I.D, and both are 7.5" O.D and will fit almost all the round floor box receptacle covers on the market today. These floor box finishing rings are also available in two standard finishes, brass or brushed aluminum, or you can choose one of our 38 custom finishes. So, if you have this type of floor box receptacle problem, Arnev Products has the solution, so click on the image below to take you to see the ordering page.
Click the image below to order or see prices: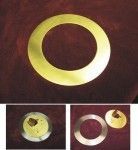 Cover up a bad cut in the wood, concrete, or tile floor
with our floor box Finishings Rings in two sizes and in many available finishes.
There are

no floor box covers included

with this finishing ring.