Rustic Mirror
With more than twenty different rustic mirror and switch plate offerings, Arnev Products has the right mirror to decorate your cabin or outdoors-themed home. Any mirror can help illuminate dark interior spaces and lend the illusion of more space, but a rustic mirror frame in one of our exciting wilderness-themed styles makes these mirrors a perfect gift idea for the hunter, fisherman (or woman), or outdoors enthusiast in your life.
Some of our rustic mirror selections have steel frames torch cut into silhouettes of various subjects. We call these scene-ins as the mirror provides the background for the scene. We offer a scene-in mirror of a bear strolling beside a marsh. Another shows a bull moose standing beside a river. There is also a rustic mirror depicting a lake scene, complete with pine trees and rushes. These mirrors measure 22" wide and 30" tall, with the mirrored surface inside the frame measuring 15" by 21".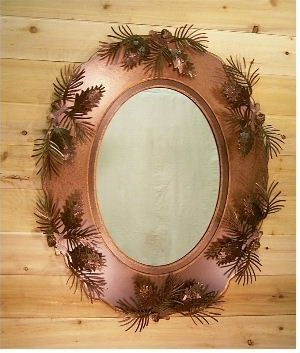 We offer mirrors of two different sizes with a combination bear and moose frame. The smaller one measures 24" by 28" (mirror size 14" by 18") and the larger one measures 30" by 35" (mirror size 18" by 23"). These mirrors offer a more unobstructed mirror surface compared to the scene-in mirrors.
Another popular choice is our silhouette frames, which come in trout, bass/bluegill, multi-leaf, and pine cone styles. This type of rustic mirror is framed with a steel frame with steel silhouette cut-outs of the fish, leaves or pine cones decorating the frame all around. All of these styles can be purchased in a 19" by 20.5" size (with mirror size 10.25" by 14.75") and the pine cone and multi-leaf mirrors can also be purchased in a larger, relief style. These frames have the silhouetted images attached to the frame slightly bent by hand to give the frame a three-dimensional quality. The pine cone style measures 23" by 28.5" (with a 15" by 20.5" mirror size) while the multi-leaf relief rustic mirror measures 34.5" by 28" (24" by 17" mirror size). The pine cone mirrors have pine cone and pine needle silhouettes and the multi-leaf mirrors have maple, oak, and aspen leaf silhouettes.
We offer other mirror designs as well, including box frames that have various designs silhouetted without a steel backing, allowing the wall to show through, in addition to some very large mirrors that are remarkable. The Oak Leaf Oversized Horizontal mirror can be custom sized as is the case with the Texas Star and Rope mirror. Each rustic mirror offered ships complete with the glass mirror included and the frames are all completed with our exclusive copper patina finish. All frames and silhouette elements are made of high gauge steel torch cut by our craftsmen in our production facility in Keshena, Wisconsin.