Recessed Floor Box, From Arnev Products, Inc.
Arnev Products is proud to produce a variety of types of recessed floor boxes. Since the 1980s, Arnev Products has been making everything from floor box outlets to switch and plate covers. Instead of having the normal, boring, white, or cream color plastic cover, they make their quality products out of wood, metal, or in the case of outdoor outlets, heavy-duty plastic. When doing any kind of home decoration, it is often the little touches that can bring together a room, such as having an aesthetically pleasing switch plate cover or having a floor box elegantly routing what would otherwise be a mess of wires that are all tangled.
Outdoor floor boxes
The idea of a recessed floor box is that it is often the perfect way to route all kinds of wires and electrical outlets into one spot. Often, when a house is built, there are plugs and outlets installed, but usually not where you want them. Consider how many times you move into a new house or apartment, only to find that the place you want to put your impressive entertainment center does not have any wall outlets. Certainly, you could route wiring along the floorboards and even tack or staple the wire down, but who wants to look like they live inside an IT hub?
Furthermore, you can use a recessed floor box to route audio and visual cables. Even if you've got the power outlets in the right spot, there is a chance that you will need more wiring to make your perfect home theater system complete. After all, routing not only the television but cable boxes, surround sound, video game systems, as well as any kind of projector or special player system, can add more wires. With all these systems trying to get plugged in, the back of your set can become a rat's nest of wiring quickly.
Audio-Video floor box with power and low-voltage like HDMI, CTV, USB, or many other choices here.
Having a recessed floor box lets you route every kind of wire through it and under your carpet or flooring, preserving the professional and clean look of your man cave or entertainment center. With these kinds of equipment and the ability to not look disorganized, your home theater will be the envy of the entire neighborhood.
An additional thing to consider is that having a rat's nest of wiring behind your entertainment center, even if not visible, is a kind of fire hazard. Wires and connections wear out over time and having all of them in one place mean that if a spark causes a fire, then it can swiftly spread to all the other wires and your entire entertainment center. A
recessed floor box
easily contains any fire issues and prevents further damage.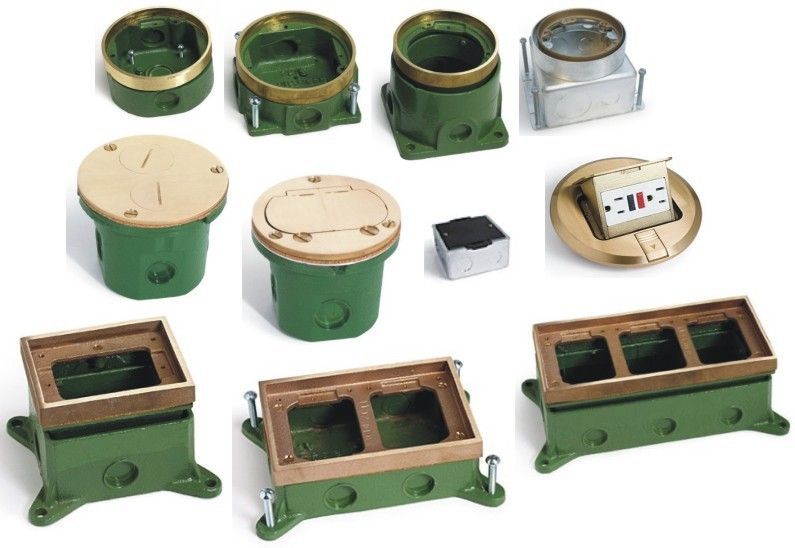 How about custom finishes for your floor box cover?