Nightlights, from Arnev Products, Inc.
Light up the night with decorative nightlights from Arnev Products, Inc. Adults and children will enjoy the gentle glow of a nightlight to guide them through the home when it is dark. At Arnev, our nightlights fit perfectly in our light switch and outlet covers. Outlet and light switch covers come in a variety of colors, designs, and styles, making it easy to blend your nightlight with the rest of your room's decorating theme.
Common Uses
Nightlights are commonly found in family homes with small children. Although not all children are afraid of the dark, for those children that are, a nightlight can ease their fears. Nightlights are a great addition to bathrooms. You'll be able to use the restroom during the middle of the night without waking anyone else in the house by turning on the lights. A nightlight in the bathroom can help small children to find the light switch quickly and reduce late-night accidents. For those who find themselves fumbling through the kitchen at night time for a midnight snack, nightlights can be used to illuminate the area. You won't have to leave the refrigerator door open just to have enough light to prepare your snack.
Nightlights can be used in any room of the house and light may be needed once it gets dark outside. Many families put a nightlight in their hallway or staircase to illuminate the area and make it safe for walking. Nightlights can be put in garages and workshops to make finding the light switch easier at night. You can put nightlights in every room of your home if you choose. Make them match with designer light switch plates and outlet covers.
Matching
Arnev nightlights can be easily matched to any room decorating theme. Because they fit perfectly into our light switch and outlet covers, you can get a customized look that is guaranteed to match the light switch and outlet covers throughout your entire home. Our nightlights are designed to sense when it has gotten dark. They automatically turn on when the room around the nightlight darkens. This is a great feature for kids' rooms because children and parents do not have to remember to turn the nightlight on each night before bed and they won't have to remember to turn the nightlight off when it is not in use. Nightlights that turn themselves on and off are a convenient way to light up the night while saving energy during the day.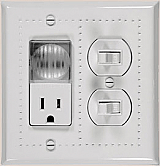 Our nightlights are designed to fit with our light switch and outlet covers. Covers come in all of our custom designs and colors. We use quality materials to ensure that you are getting the best products available. Browse our selection of nightlights and find one to illuminate every room of your home.
Shop for all our products here www.arnev.com