Floor Boxes Category, From Arnev Products, Inc.
for Wood & Concrete

.

Round Brass Plugs

#12. "NEW" c

ountertop

access boxes in Stainless

Steel, Brass, Black, White,

and GFCI in 20 amp.

1 product
| | | | |
| --- | --- | --- | --- |
| NEW!!! | | | |
Finishing Rings for Floor Boxes
and about our 38 custom finishes for floor box covers
You hired a contractor to put in some electrical outlets on your new hardwood floor. However, when the contractor cut the hole in the floor the floor box cover was not large enough to cover up the rough edges they left on your beautiful new floor! What do you do? Or how do you cover up an existing concrete floor box in the floor where the tile is all cracked and chipped? We have the solution for you with our finishing rings for floor box covers.
"Finishing Rings" by Arnev Products, Inc.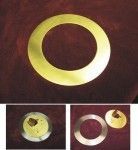 These Floor box cover finishing rings will fit almost any round box cover on the market by all the manufacturers and can be glued or screwed to the underside of the floor box cover to give you the extra width needed to cover almost all cutting mistakes. These are 4" ID (inside diameter) by 7 1/2" OD (outside diameter), or 4 1/2" ID by 7 1/2" OD, and are beautifully brass plated for years of wear. Or, Arnev Products can customize both your new or existing floor box cover and new finish in 38 custom finishes. You could have the Finishing Rings and Floor box covers in Bronze, Pewter, Copper, or any one of 38 custom finishes on this page on their website,
and you can even order the custom finish sample chips.
This could be the fix you are looking for, so check out the Floor Box Finishing Rings or call Arnev Products, Inc. at 800-260-1181.
The Convenience and Importance of Floor Boxes
If you have already installed, or are planning on installing floor outlets in your home or workspace, make sure you choose the right kind of floor boxes for the area. Whether you are powering a home entertainment room, an office full of electrical equipment, or a computer lab, floor outlets reduce the clutter of extension cables. They also allow more flexibility when organizing electronics in a room. However, if it is not properly installed, you can run the risk of damaging your property if there are raised edges around the outlet or if any wiring is exposed. A floor box prevents the dangers of an exposed floor outlet. Arnev's original product, finishing rings are an exclusive invention that effectively covers up any leftover edges that may be exposed if the box does not fit perfectly.
Why you Need Floor Outlets
Floor outlets are practically necessary when powering up a room full of electronics. The wall outlets may already be used up, and extension cables may be cluttering the room. Floor outlets will allow you to have more flexibility when deciding where to place your electronics in the room and will free up more space when you can take out the extension cords. They also allow for electrical equipment to be hooked up outside, away from any wall outlets, because they can be installed on your outside patio.
Electronics are becoming more and more a part of our everyday lives, so it is important to accommodate this by creating more convenient ways to power everything up. Having a floor outlet will provide access to electrical wiring right where you need it, rather than relying on organizing electronics near walls. The organization is key when creating a more efficient workspace or comfortable living space, and having a floor outlet will reduce the need to clutter your house with unnecessary extension cords.
For example, installing outlets on the floor in office spaces and computer labs will make them more manageable and less cluttered, because it frees up space from plugging wires into the walls and using extension cords. A more organized workspace is a more efficient workspace, and the same could be said about living space as well. The only problem with owning a floor outlet is the fact that it can be dangerous if installed incorrectly, as the wiring and raised edges can be exposed. It is much easier to spill a drink into a floor outlet than it is to spill one into a wall outlet, which is precisely why choosing the right floor boxes is vital.
The Importance of Floor Boxes
As stated previously, a floor outlet can pose a hazard if managed improperly. Floor boxes contain these outlets to keep the wiring safe from exposure. They offer easy access to wiring from under your house or facility, as well as free up space that may have been occupied by extension cords. These can be installed in either wood or concrete. Arnev distributes durable floor boxes that come in a myriad of different colors, shapes, sizes, and styles. Arnev has 38 custom finishes that are offered when refinishing a floor box and this is exclusive only to Arnev, Inc. Arnev offers round boxes or rectangular boxes, metallic or non-metallic boxes, and boxes with flip lids, single lids, duplex lids, adjustable or semi-adjustable gang boxes to allow for customization, based on your needs.
If your house or workspace has a color scheme of any sort, you can install a floor box that fits that theme. Having a cheap, plastic cover for your floor outlet is unappealing and will also take more damage because it is of lower quality. When dealing with electronics, it is highly suggested that you go with high-quality material to keep it protected.
Once the floor box is installed, it is important to remember to top it off with a finishing ring, to make sure there are no rough edges left over from the initial installation of the outlet on your floor. If you have floor outlets, you need floor boxes and Arnev has the selection you need.
Arnev Finishing Rings
Finishing rings are placed after the floor box has been installed on your floor. These are especially important because the floor box will not always perfectly fit the hole that was made to install the outlets. This can leave rough edges that make the floor look unappealing. Installing a finishing ring will make your floor outlet and box look complete. Arnev finishing rings come in bronze, pewter, copper, and more. There are 38 custom finishes to choose from with Arnev. These finishes match the finishes that you can get with the boxes as well. They are also inexpensive and easy to install.
Arnev offers high-quality floor boxes and finishing rings that will make your new or existing floor outlet safer and seamless. The customization that Arnev offers, allows you to fit your house or property's theme while also adding utility. Some floor box styles allow for the outlets to pop out of the ground when you want them to so that you can more conveniently plug in your electronics when needed. It is very important to install a floor box and finishing ring to keep your outlets contained, because you will be walking over them all the time, and it would otherwise be extremely dangerous if any wiring was exposed in case you accidentally spill something on it.
Not only does the customization of colors and styles allow for a more appealing and convenient floor outlet, but the products that Arnev offers are of high quality, meaning your outlet will be safe from harm, and the box and rings that cover it will be durable and resistant to scratches. If you decide to install an outlet on your floor, make sure you keep it and yourself safe from any potential hazards and cover it in a floor box and finishing ring. It will prevent any risk of property damage in the future. Check out Arnev's quality floor boxes and other products today.
Shop for all our products here www.arnev.com