Home Accents
When you are decorating your home with a theme, the simplest home accents can make a big impact on the look and feel of a room. Many people never consider their light switch covers and outlet covers as home decorating accents. Simply switching their plain light switch and outlet covers for designer covers can make all the difference in their home's decorating theme.
Arnev Products, Inc. is a Wisconsin-based manufacturing company that was established in 1989 by Arnie Evans. Arnev Products, Inc. manufactures decorative electrical light switches and outlet covers along with other home accents. You can purchase Arnev products at fine lighting stores, gift shops, hardware stores, and Arnev.com. Arnev Products Inc. has been expanding its product line to include decorative switch plates featuring different finishes, punched designs, and themes. Products come in a variety of configurations and can be used to add a decorative element to any room in the house. Electrical switch plates are manufactured to match a variety of other home accents available at Arnev.com.
Custom switch plates are offered in many different designs. No matter what theme you have selected to decorate your home, there is sure to be an outlet or light switch cover to match. Designer switch plate covers make excellent home accents. Styles include Corinthia, Hammerhein, Oceanus, Roguery, Sonnet, and others. Arnev manufactures light switch and outlet cover plates in more than 30 different custom finishes. Switchplate covers and home accents are available in bronze, gold, pewter, rust, black, satin, verdigris, copper, weathered white, antiqued gold, iron, chocolate, cherry, and steel. Combinations of these and other finishes are also available. Arnev also manufactures light switch and outlet cover plates in beveled glass, acrylic, gray glass, and frosted glass. Metal light switch and outlet cover plates can feature hole punched designs.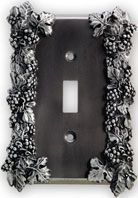 At Arnev.com, home decorators can purchase metal-backed and non-metal-backed wooden light switches and outlet cover plates. Like the custom switch plate covers, wooden light switches and outlet covers are also available in a multitude of designs and colors. Choose from wood grain-like mahogany, alder, ash, maple, pine, butternut, cherry, cocobolo, oak, and others. Home decorators can choose which finishing edge they would like after selecting a wood grain. Arnev offers rounded, beaded, chamfered, cove, and square edges on their wooden switch plate covers. Wooden light switch and outlet cover plates are all custom handmade.
If you are looking for a quick way to spruce up the look of your home, or need quick home accents to finish a room's decorating theme, shop at Arnev.com. Home decorators will find a variety of light switches and outlet cover plates. Arnev also manufactures a line of kitchen and bathroom decorating home accents and cabinet hardware to match their switch plate cover designs.