Floor Outlets Article From Arnev Products, Inc.
The safety of your home and your family is important. There is a lot at stake when floor outlets are not properly installed. Exposed wiring and raised edges not fitting flush with the floor are dangerous. Covers for floor outlets are inexpensive, and decorative and can save you money on costly home repairs and doctor visits.
Why You Need Covers
Many homeowners choose to have floor outlet boxes installed in their living rooms and entertainment rooms. Floor outlet boxes make it easy to hook up multiple entertainment systems without overloading regular wall outlets. You can hook up your television, DVD player, surround sound speakers, gaming consoles, and more. Homeowners can have a floor outlet installed in different configurations. No matter how many power receptacles your floor outlet has, Arnev Products, Inc. has a floor box and box cover to fit it. Arnev floor boxes are great for wood or concrete floors. They fit seamlessly into the floor without leaving a raised edge. When purchasing floor boxes, do not forget to buy the floor box finishing ring that goes with it.
Floor outlets not contained in a floor box can make your home a hazardous place. Exposed wires carry an electric current. The current has the potential to travel through other parts of the floor. Stepping on air vents or other current-conducting parts of the floor could cause electrocution. Even if an electric current isn't traveling through the floor, floor outlets may have exposed wiring. Plugging in appliances can be dangerous if you touch the wire. Electrical wiring left uncovered and unprotected by floor boxes and finishing rings can spark and ignite. Your home, belongings, and loved ones could be lost in an electrical fire ignited by uncovered wiring. Arnev Products, Inc. has round, rectangular, and square boxes for floor outlets.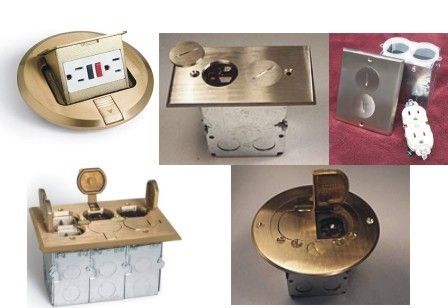 Arnev Floor Boxes
Boxes and covers for floor outlets are made from durable, scratch-resistant materials. They can be installed on wooden or concrete floors. Floor boxes are great for churches, schools, home theaters, and other entertainment uses. Floor outlets make it possible to plug multiple entertainment systems into one place without needing extension cords or power strips. Arnev Products, Inc. manufactures its floor box accessories from low-maintenance, sturdy materials. Products are strong and durable enough to withstand years of use. Arnev manufactures quality electrical outlet covers in a variety of colors, finishes, and designs. Floor outlets are available in more than 50 different configurations.
Make sure your floor outlets are installed correctly before plugging appliances into them. First look to see if the floor box fits seamlessly with the floor. There should be no raised edges or wiring sticking up from the floor. Raised edges are sharp and can cause injury. If the box is properly installed, check to see if the finishing ring is securely fitted to the box. Arnev Products, Inc. manufactures finishing rings and switches plates in different shapes and colors to blend in with your home's decorating theme. After verifying that the floor box and finishing ring are installed correctly, plug your appliances into your floor outlets and enjoy.
Shop for all our products here www.arnev.com