Duplex Electrical Sockets, From Arnev Products, Inc.
Arnev Products, Inc. manufactures outlet covers in a variety of configurations. Outlet covers are designed for single duplex electrical sockets and up to eight duplex electrical sockets. Outlet covers are more than just decorative. They are an important electrical outlet accessory for keeping your family and home safe from exposed electrical wiring. Covers for duplex electrical sockets are inexpensive, and decorative and can save you money on costly home repairs and doctor visits.
Arnev
Arnev Products, Inc. was founded by Arnie Evans in 1989. For more than 20 years, Arnev Products has manufactured switchplate covers for duplex electrical sockets and light switches. A variety of outlet cover products are available on their website. Arnev Products, Inc. manufactures new products and home decorating accents each year. Products are designed to coordinate or mix and match with other products available on their website.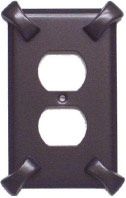 Switchplates for duplex electrical sockets are made from durable, scratch, and shock-resistant materials. Products are generally low maintenance, sturdy and usable for years. Arnev's products are high-quality electrical outlet covers. Products are available in every color, finish and design imaginable. Covers for duplex electrical sockets are a simple way to decorate your home while also protecting it from the hazards of exposed wiring.
Choosing Covers
When you shop the product line available at Arnev.com, you can easily find all of the covers you need to protect your duplex electrical sockets. Arnev.com has a complete inventory of light switchplates, electrical outlet covers, and cable covers to match any home decorating theme. Arnev products are available in many of today's most popular home decorating designs. You can choose outlet covers that blend into the wall or that stand out and match your home's decorating theme.
Protecting Your Home
Being shocked by an exposed current conducting wire hurts. The injuries caused by electric shock are damaging and sometimes fatal to those who have an accident. By leaving your duplex electrical sockets uncovered, you are making your home a hazardous place. Reaching for a light switch or bending over to plug in an appliance can be dangerous should a friend or family member touch a live electrical wire. Families with small children and pets should be especially careful. Small children, pets, and even adults can be severely injured if not killed by an electric shock accident. It is important caretakers and family members make repairs to broken or missing outlet covers as soon as possible. The same electric current that can shock people and pets can also set fire to your home. Electrical wiring left uncovered and unprotected by proper covers and boxes can spark and ignite. Keep your home and family protected by covering your duplex electrical sockets with covers from Arnev Products, Inc. Covers manufactured by Arnev are shock resistant and designed to house live wires safely.
Shop for all our products here www.arnev.com