Coat Hangers
Arnev Products is proud to offer a line of rugged wall-mounted coat hangers. These decorative outdoors-themed coat racks are perfect for decorating your home or cabin and make excellent gifts for the outdoorsman, fisherman, or hunting enthusiast in your life.
We start with heavy gauge steel and torch-cut them into one of our rustic woodland shapes. The coat hangers come in many different styles. We have coat hangers picturing a bear strolling through a pine forest, a whitetail buck and doe, an elk, a herd of wild horses at full gallop, a majestic bull moose, a pair of pheasants, a stand of pine trees, a swimming loon on a pond, a beautiful trout, a walleye pike, a wolf, a maple leaf, an oak leaf, or a pine cone. We even have a rack that combines the outlines of a bear, moose, and deer. They are finally coated in our copper patina finish.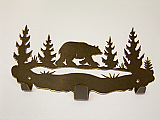 The coat racks, or coat hangers, come in three widths: 24 inches, 36 inches, or 46 inches. We carry three-hook racks with hooks large and sturdy enough to hold the bulkiest winter garments. The 24-inch racks can also come with three coat hooks and two smaller hooks, suitable for holding key chains or hats. The 36-inch coat racks are equipped with four large hooks and three small hooks. The 46-inch coat racks are well suited to take care of an entire family's needs with six large hooks and five smaller hooks or, in the case of the 46-inch pine tree model, five smaller hooks alternating with four large hooks.
Our customers who are interested in these beautiful and unique coat hangers might also be interested to learn that we offer many other homes decorating ornamental fixtures in the same rustic styles. We offer wall switch plate covers, wall-mounted mirrors, towel bars, towel rings, key chain holders, toilet paper holders, napkin holders, robe hooks, switchplates, and paper towel holders all in the outdoors-themed styles mentioned above. All are made of the same durable heavy gauge steel and are finished in the same attractive copper patina.
We make our decorative coat hangers and all of our other products at our manufacturing facility in Keshena, Wisconsin. We have been manufacturing the very finest in switch plates and other home decor items since 1989. Our products are sold nationwide in designer lighting stores, gift stores, and hardware stores. In 2000, our products were even featured in an article in Women's Day magazine's "Walls, Windows and Floors" special issue. We take great pride in our products and we're sure you'll enjoy them, too. We offer secure credit card ordering online through the X-Cart online shopping cart service, but we also accept mail-in and phone-in orders, too.