Cabinet Knobs article 2, from Arnev Products, Inc.
Installing brand-new cabinet knobs in your kitchen or bathroom is easy. In just a few easy steps you can install cabinet knobs on any cabinet in your home without stress. There is no need to call a professional when you can do it yourself.
To Begin
Before you can install brand new knobs on your kitchen or bathroom cabinets, you must first select which cabinet knobs you'd like. Arnev Products, Inc. has a huge variety of knobs for cabinets. Most of the cabinet hardware options in their inventory are available in 38 different finishes. You'll also find custom designs that can be matched perfectly to other home decorating accents made by Arnev. Cabinet hardware can be purchased to match light switch and outlet covers, towel racks, toilet paper holders, bathroom or kitchen wall hooks, paper towel holders, and other accent pieces. Take your time and be sure to select a cabinet knob style that is suitable for your existing home decorating theme.
When you have chosen your brand-new cabinet knobs, you may begin the installation process. To begin installing your cabinet hardware, first, decide the placement of the knob, and take into account any switchplates. Many knobs for cabinets are standard in size and can easily be installed in the spot where the previous cabinet knob was placed. If you are installing knobs on brand-new cabinets, you'll need to measure and mark where you want to place the knob.
Overhead, cabinets should have the cabinet knob placed at the bottom corner of the cabinet to make reaching for the cabinet easier. Floor-level cabinets should have cabinet knobs installed at the top corners to avoid having to bend down to open the cabinet. Cabinets at eye level should have knobs installed near the cabinet's border and toward the center.

Installation Process
After you have marked and measured where your cabinet knobs will be installed, attach a drill bit to your drill that matches the same size as the screw that came with your brand-new cabinet knob. Drill a hole through the cabinet door and back out again. Insert the screw and attach the knob. Repeat this process for all cabinet doors in your kitchen or bathroom.
Installing cabinet knobs is fast and simple. With the right tools, you can install new kitchen or bathroom knobs in a day. Follow up your kitchen or bathroom cabinet knob installation project by making sure that your knobs are securely mounted to your cabinet doors. Any cabinet hardware that jiggles or is not mounted flat against the cabinet door should be taken off and remounted. The same goes for any
cabinet knobs
that have been mounted crooked or upside down.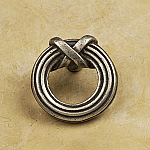 And many more