Cabinet Hardware article 1, from Arnev Products, Inc.
Find cabinet hardware to match your bathroom fixtures, home decorating accents, and switch plates at Arnev Product, Inc. Our website boasts a massive inventory of cabinet hardware including hooks, handles, and knobs. Customize the look of your bathroom with cabinet and drawer handles in whatever finish you'd like. There is no limit to your decorating capabilities when you shop at Arnev.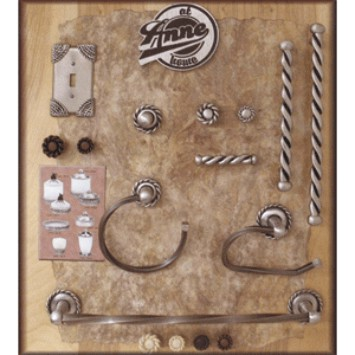 Home Decorating
Your kitchen and bathroom cabinets can carry out the decorating theme of your household. Using cabinet hardware from Arnev, you can match your cabinet handles and knobs to our other home-decorating products. Cabinet hardware can also be matched to the light switch plate and outlet cover products in our inventory. No matter what your decorating theme is, you're sure to find a light switch plate, outlet cover, cabinet knob, and other home decorating accents to complete the look throughout your entire home. Bathroom cabinets and kitchen cabinets can feature beautiful cabinet handles and knobs in a variety of washes and finishes. Arnev Products, Inc. uses the best quality materials to manufacture cabinet hardware that is durable and long-lasting for years of heavy-duty use.
Finishes
The cabinet hardware in our inventory comes in a variety of custom finishes. We use pewter, copper, and bronze materials to manufacture cabinet handles and knobs. We use brushed finishes to give materials a unique and decorative look. Choose from pewter with cherry, white, maple, matte, or bronze finishes. Copper can be brushed with rustic, antique, or bronzed finishes. Bronze finishes can be accented with black, terra cotta, Verdigris, gold, and other washes. Arnev Products, Inc. makes cabinet hardware available in these and other finishes. Hardware for cabinets can be matched to our other bathroom fixtures and home decorating items to complete the look of your bathroom or kitchen cabinets and drawers. There are over 38 finishes to choose from
Designs
Bathroom and kitchen hooks, handle, and knobs are available in over 300 different designs. At Arnev, we have cabinet handles and knobs in Toscana, coastal, animal, outdoor, Asian, French, Victorian, floral, western, and music themes. You can also choose from a variety of traditional, contemporary, and classic designs. Arnev Products, Inc. manufactures cabinet hardware for bathroom and kitchen cabinets of all sizes. If your cabinets are a bit oversized, you have a full line of oversized hardware for cabinets for you to choose from. Most of our designs come in over 38 different finishes so that they can be easily matched to light switch plates, outlet covers, and other home decorating pieces. Arnev Products, Inc. manufactures bathroom and kitchen accents like paper towel holders, napkin holders, mirrors, towel racks, bathrobe hooks, towel hooks, toilet paper holders, and more. Your cabinet and drawer handles and knobs can complete the theme of your kitchen or bathroom. With matching cabinet hardware, your home's decorating theme is sure to stand out.
Shop for all our products here www.arnev.com